V.K. RAMAN, one of the leading Flautists in the Carnatic style of Music, started learning Flute at the age of 9 and at the age of 15, he started giving full-fledged concerts. Since then Raman has performed in many prestigious organizations in India and abroad. As a performer, Composer, producer, educator, he has performed in all genres of music and has been very successful as a Music Composer.

He has scored music for many Audio / Video Albums; CDs and has released more than 60 CDs which includes several best sellers through various labels worldwide. His latest CD Music for Deep Meditation produced by Inner Splendor Media reached the #1 Spot on the Apple I tunes in the world music category & has been on the top 50 for more than 6 months.

Raman was awarded the Best Flautist award from the Madras Music Academy for his concert in December 2009.

V.K. Raman... extremely musical and expressive... sweetness and sensitivity of tone... captivating... soulful music flowed from the heart." - The Hindu, Chennai, India.

Raman's recordings and live performances are testimony to a profound musical sensibility as a composer and Musician of the highest order. -- Glen Velez. World Frame Drummer & Grammy Winner.
---
Mysore V. Srikanth: Violin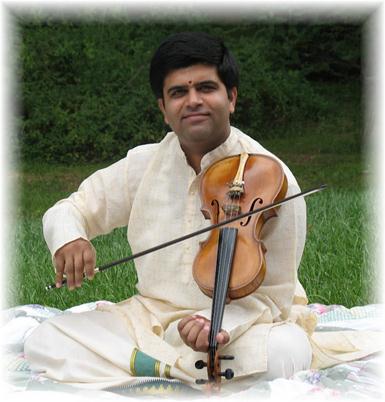 Srikanth is a senior disciple of Vidwan Sri. H.K. Narasimhamurthy of Mysore. He started learning Violin at a very young age and has undergone rigorous training for more than twenty years.
Srikanth Venkataraman has been giving performances from his fifteenth year. He has gained rich Experience by accompanying Top Artists like R.K.Srikantan, Dr. M. Balamuralikrishna, T.N.Seshagopalan, T.V.Sankaranarayanan, O.S.Thiagarajan, TrichurRamachandran, Hyderabad Brothers, Yesudas, Flute K.S.Gopalakrishnan, Rudrapatnam Brothers, Bombay Jayashri, Bombay Sisters, Sudha Raghunathan, & others and received their blessings and appreciation.
He has performed with great Mridangam stalwarts like Palghat Sri Raghu, T.K.Murthy, Guru Karaikkudi Mani, Guruvayur Dorai, Vellore Ramabhadran, Umayalpuram Sivaraman, Tiruvarur Bhaktavatsalam, SrimushnamRajarao and many others. He is also performing with talented young artists like Malladi Brothers, Abhishek Raghuram,
Srikanth has been featured in all prestigious Music Sabhas & Organizations throughout the country. He was adjudged as the Best Violinist by:
Krishna Gana Sabha - 1995
The Indian Fine Arts Society (Sub- senior category)-- Dec 2000 Music Season
Karnataka Gana Kala Parishath Young Musicians Conference 2001
The Music Academy (Madras) - Dec 2002 Music Season
The Indian Fine Arts Society Dec 2007 Best Senior Violinist
The Indian Fine Arts Society Dec 2008 Best Senior Violinist